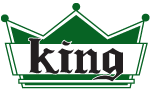 About Us
King Materials Handling has always been a family run organization. It was born in the lower level of George and Dorothy King's house in 1975, as King Industrial Dock Equipment. It was a small office with one typewriter, a couple of phones and a telex machine.
Captained through the 80's and 90's by George's son-in-law Craig Van Buskirk, King Materials Handling continued to grow with the times while increasing its territory to the London area.
In 2006 I bought the company and continued with the founding philosophies. I remain committed to doing business, the right way, with honour and integrity, words that will remain the foundation of our company. We still have many of the old faces around, committed to the King way of business, working together in a great family like atmosphere.
We also have continued to grow, expanding in the Toronto & Hamilton areas.
100% satisfaction is expected. please call or email me directly if your experience is less than that.
Remember….Quality doesn't cost – it pays!
Sincerely,
Ed Michniewicz
President, King Materials Handling